WHAT IS TABLEAU?
Tableau is a Business Intelligence platform with a clear mission: to help people view and understand data. The use of massive data for its analysis and to obtain business intelligence, whether it is used for millions of registrations or a combination of multiple different data sources to achieve a holistic vision, it's not a goal for the future anymore. It's not a "nice to have" issue, it is fundamental.
Tableau is a visual analytics platform transforming the way we use data to solve problems—empowering people and organizations to make the most of their data.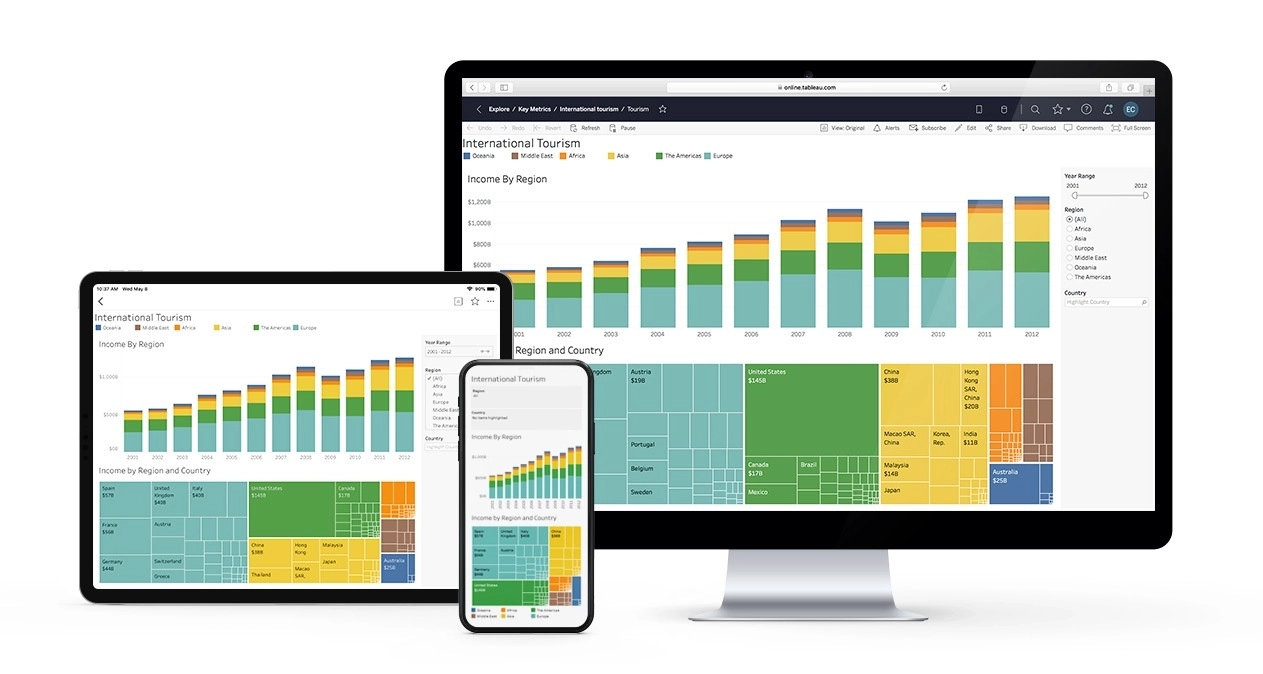 Tableau helps people and organizations be more data-driven
As the market-leading choice for modern business intelligence, our analytics platform makes it easier for people to explore and manage data, and faster to discover and share insights that can change businesses and the world. Everything we do is driven by our mission to help people see and understand data, which is why our products are designed to put the user first—whether they're an analyst, data scientist, student, teacher, executive, or business user. From connection through collaboration, Tableau is the most powerful, secure, and flexible end-to-end analytics platform.
In today's world, data and the insights we can take from it are and will be the greatest asset of the 21st century, and having tools to make that process easy is the key. It is not only that, because more and more employees will need to have a greater knowledge of how to work with data, understand it and take insights from it.
But, what does Tableau have to offer? Tableau as a platform has three elemental parts:
Tableau Prep – useful for data source planning, cleaning and combination. For all those common tasks we do on Excel, external queries on SQL, or other tasks that we outsource to the already overwhelmed IT teams to do for us
Tableau Desktop – useful to connect to every data source in order to get BI answers, identify outliers, analyse KPIs or create interactive dashboards. These dashboards can be exploratory to allow the user to identify their own insights; or they can be explicative to show users key points and explanatory of the business' situation
Tableau Server or Tableau Online – These are two options with very similar functionality, which enables us to share our reports, answers and dashboards with all the other users within our company, or even our clients. They also allow us to define authorizations, to make sure that the people or teams that should have access are the only ones allowed in. At the end, these two tools have all that is necessary for every company to obtain the best from Tableau.
Tableau Prep – useful for data source planning, cleaning and combination. For all those common tasks we do on Excel, external queries on SQL, or other tasks that we outsource to the already overwhelmed IT teams to do for us
BUT, WHAT KIND OF DATA CAN BE CONNECTED TO?
Practically every kind of data we need. With Tableau we can connect to very diverse sources of data:
Obviously, the data we have in our Tableau Server or Tableau Online.
Locally stored data like Excel, .csv, .txt, shapefiles, PDFs, JSON, SAV…
Data from databases like MySQL, PostgreSQL, MariaDB, Oracle, MongoDB, Exasol…
Cloud stored data from Salesforce, Snowflake, Amazon Redshift, Azure, Hadoop, SAP HANA, Google BigQuery, Alibaba…
WHAT DIFFERENCES TABLEAU FROM OTHER BI PLATFORMS? IT IS EASY TO USE
Every tool requires a learning process, but the learning curve with Tableau is significantly better than on other platforms. You can almost do anything dragging and dropping. Almost every option is there, within a click, and everything seems intuitive and easy, but at the same time you have seamless possibilities. Any analyst or company employee can be bored of making graphics on PowerPoint, repeating those steps once data is updated, and making the same tasks a thousand times. Tableau, with its user-friendliness, makes Data Analysis and Visualization an enjoyable, interesting and rewarding process.
ANALYTICS FOR EVERYONE, EVERYWHERE
With any data, from anywhere.
SELF-SERVICE DATA PREPARATION
Tableau Prep changes the way traditional data prep is performed in an organization. By providing a visual and direct way to combine, shape and clean data, Tableau Prep makes it easier for analysts and business users to start their analysis, faster. Tableau Prep is comprised of two products: Tableau Prep Builder for building your data flows, and Tableau Prep Conductor for scheduling, monitoring and managing flows across the organization.
Get Tableau Desktop as part of Tableau Creator
Get actionable insights fast
Leave chart builders behind. Live visual analytics fuel unlimited data exploration. Interactive dashboards help you uncover hidden insights on the fly. Tableau harnesses people's natural ability to spot visual patterns quickly, revealing everyday opportunities and eureka moments alike.
Data to the people—responsibly
Extend the value of your data across your entire organization with Tableau Server. Empower your business with the freedom to explore data in a trusted environment—without limiting them to pre-defined questions, wizards, or chart types. Have the peace of mind that both your data and your analytics are governed, secure, and accurate. IT organizations love Tableau for its ease of deployment, robust integration, simplicity of scalability, and excellent reliability. You no longer have to choose between empowering the business or protecting your data - with Tableau you can finally do both.
Share and collaborate in the cloud
Tableau Online is your analytics platform fully hosted in the cloud. Publish dashboards and share your discoveries with anyone. Invite colleagues or customers to explore hidden opportunities with interactive visualizations and accurate data. All easily accessible from a browser or on the go with our mobile apps.
The Tableau Platform
Tableau is the broadest and deepest, end-to-end data and analytics platform. Ensure the responsible use of data and drive better business outcomes with fully-integrated data management and governance, visual analytics and data storytelling, and collaboration—all with Salesforce's industry-leading Einstein built right in.